The feet are the most ignored part of our body. Apart from standing, running or walking, there are several other issues that may cause our feet to end up with heel fissures. These may include dehydration, aging, wearing of wrong shoes and absence of oil glands in our heels (diabetes, eczema, thyroid disease, psoriasis are some uncommon causes). Treating these thorny, coarse and dry feet requires regular nurturing. Read on to know how to make feet soft and smooth all year round.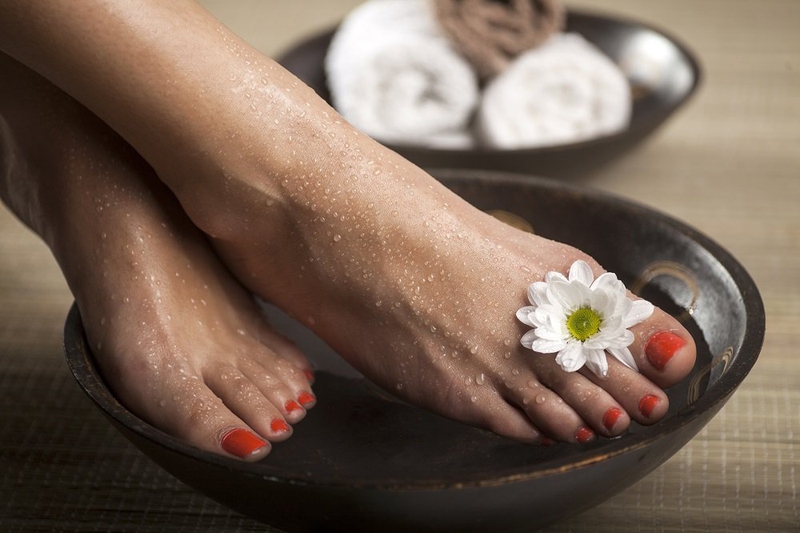 The Best Remedies for Making Your Feet Soft
Don't try to rub off all the damaged skin in one go, it may cause inflamed and sore feet. Contrary to that, you should adopt a slow and steady method to get a long-term solution.
1
Exfoliation
Rubbing down the feet using some foot exfoliator or a pumice stone should be the first step towards those silky feet. It only works when you have damp and soft skin (try it right after the shower). Here is how to scrub off all the dull and damaged skin cells:
Get your foot tub filled with warm (not hot) water.

Pour in some liquid soap or Epsom salt in it.

Place your feet inside the tub for about 20 minutes (to dampen the skin).

Now you will feel the foot skin comparatively loosened and soft.

Take a pumice stone and slough off the dead skin gently (avoid an aggressive rubbing).

Wash and pat dry your feet.

Apply some good moisturizing cream (Vaseline) and put on cotton socks for about half an hour for proper absorption of moisture in the skin and to avoid the risk of slipping.

Repeat the same process until you get crack-free and healed up feet. That is how to make feet soft and supple within days.
Note: We don't recommend using hot water for this method, as hot water tend to dry the skin excessively.
2
Scrubbing and Moisturizing
Besides using foot exfoliants to buff away the dead skin, using foot scrub, at least once in a week, is another great remedy. There are a number of foot scrubs available in the drugstores. You can easily make your own homemade scrub as well. How? Check out the method;
Take brown sugar—1/4 cup, add same amount of Epsom salt and coconut oil (or olive oil). Mix them all well and scrub your feet (especially the affected areas like heel and both sides) with it.

Once you have scrubbed the feet, apply DIY glycerin mixture. To prepare that you need an equal amount (1 tbsp.) of glycerin, lemon juice and rose water. Apply it well on your feet and let it stay for about 20 minutes. And then rinse it off (rinsing is optional).
Note: This glycerin mixture can be applied daily until the complete healing of the cracks, using even after that keeps the feet nourished.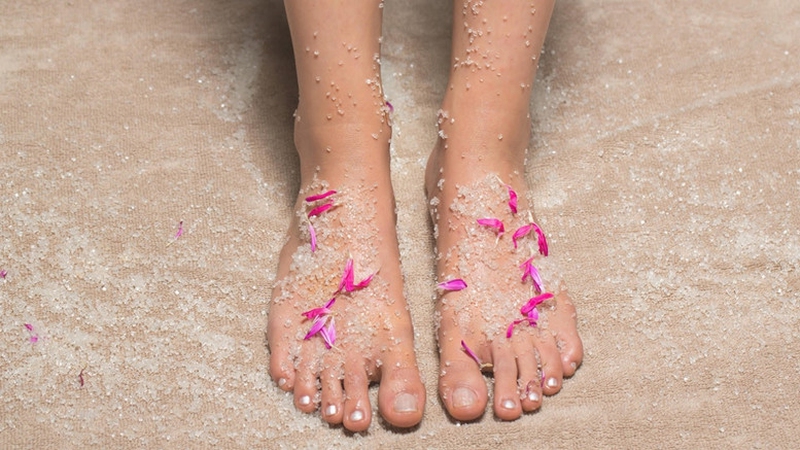 3
Pamper Every Day
Our feet do not have any oil glands, that's why they are always at the risk of getting dry and callused. To deal with this situation, moisturization is a must-do. Not just after scrubbing, exfoliation but moisturization should be a part of your daily beauty regimen (especially before going to bed). There are a number of good moisturizing creams (Nivea and crack creams) and lotions available in the drugstores. Try them all over your feet. Secondly, you can DIY a moisturizer yourself. Check out the recipe of a homemade moisturizer.
Ingredients:
Coconut oil—3/4 cup

Shea butter cream—1/2 cup

Lavender oil-15 drops
How to make feet soft with it?
Combine both ingredients in a pot and place it on the stove on low heat till it melts. Remove it from the stove. Add lavender essential oil. Apply once it cools down. Using the coconut oil alone on your feet can also do the trick (Olive oil can also be used in its place). We prefer coconut oil because of its anti-bacterial and anti-fungal properties.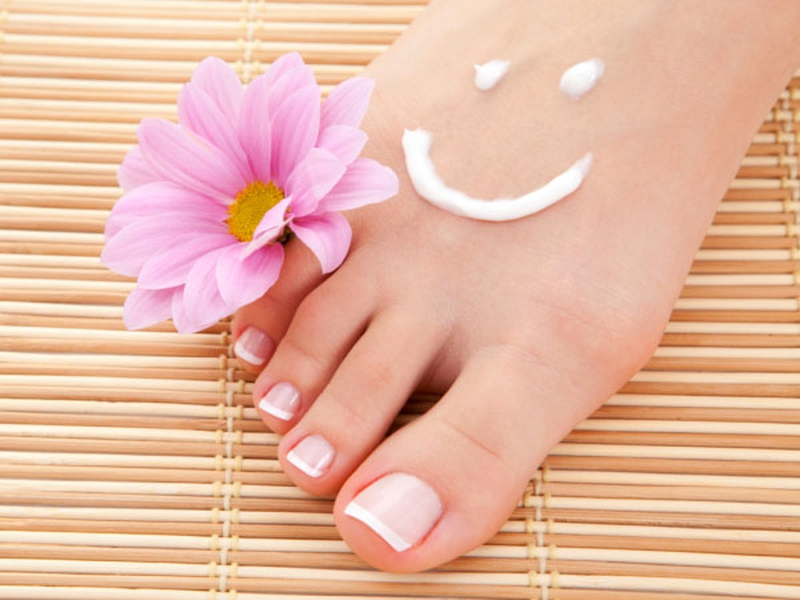 4
Foot Mask
Using foot mask is yet another way to fill those thorn-like cracks. You need to keep the foot mask on your feet for some time, that's why it is recommended to apply it before going to bed. Here is the way to use it:
First you need to moisturize your feet with your regular moisturizing cream.

Now take one tbsp. petroleum jelly, mixed with lemon juice.

Coat your feet, particularly the affected area with this mixture.

Cover the feet with plastic wraps and then with a pair of cotton socks and sleep with it all.

Remove all of it after waking up and wash or wipe your feet to remove any remains of the mixture.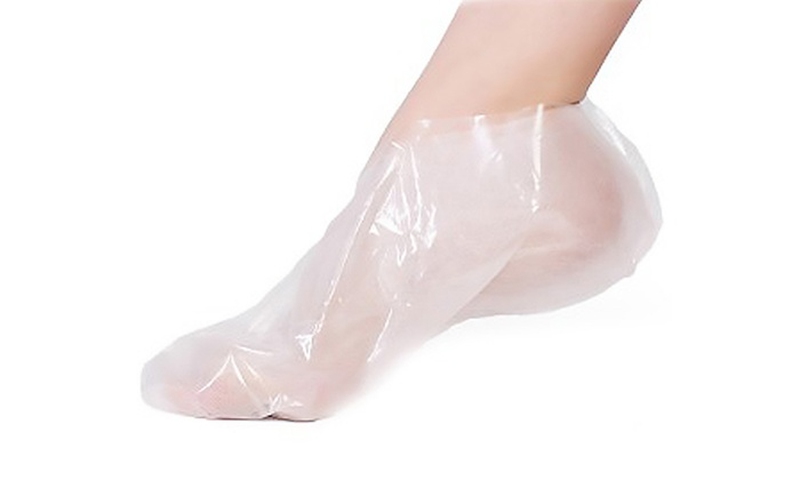 5
Some Other Tricks to Get Soft and Crack-free Feet
Besides following the above-mentioned ways, here are a few other tricks that can prove helpful in healing your dry heels.
Avoid going barefoot as it causes your feet to dry faster.

Don't wear shoes that are too tight or backless.

Keep your body dehydrated to avoid dryness of skin, including your feet.

Try to keep your feet dry all the time. Excessive exposure to moist/water may cause symptoms like irritated skin and fungal infection.

Milk is a natural moisturizer and soaking your feet in warm milk (about one cup) everyday promises velvety soft heels.

Dipping your feet in warm water with a cup of honey in it for about 10 to 15 minutes daily ensures healing of cracked heels.

Peppermint oil comes with anti-bacterial properties. It will not only cure infection and soreness of heels but it would also maintain healthy looking and beautiful heels.

Even banana can play an important role in your quest of knowing how to make feet soft. Application of banana paste for about ten minutes and then washing it out with warm water, gives smooth and supple feet.

Give a try to the warm soak of apple cider vinegar with a couple of drops from dish washing solution, to heal up ugly looking cracks.

You can cure dry, cracked and rough feet even with paraffin wax. Just prepare a paste by adding mustard or coconut oil in it. Melt it in microwave and apply on the affected area and leave it on overnight for best results.
ANY IDEAS ABOUT THIS TOPIC?