Flowers aren't just for display, especially when found in the kitchen. From Italian cuisines that feature squash blossoms to the lilies and chrysanthemums found in Asian cuisine, flowers are not an uncommon way to add flavor and color to many dishes. The range in flavor can go from spice to herbaceous, while making the dish more aromatic. But what kinds of flowers are edible? In this article, we will particularly talk about rose eating.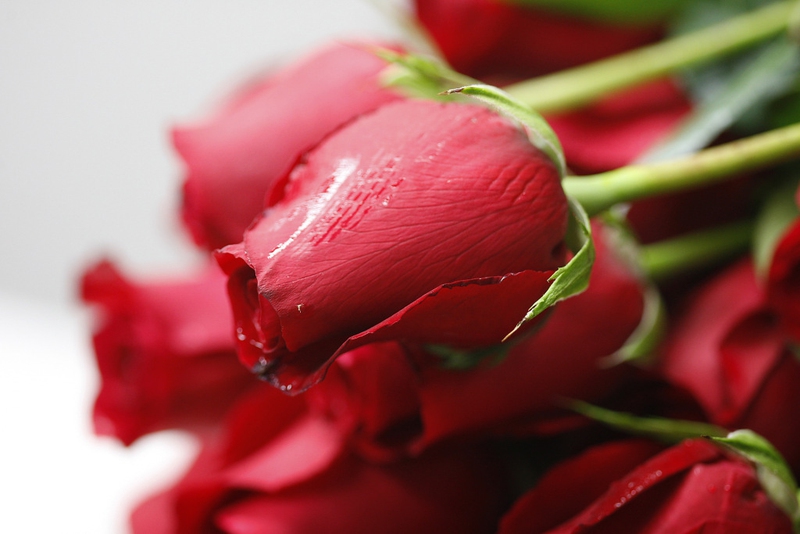 Can You Eat Rose Petals?
Yes! You can eat them. Rose petals can range in flavor but most give off an apple or strawberry taste. The white part found on the petals should be removed and discarded since this part can be quite bitter. As a rule of thumb, the darker the color of the rose, the more flavors it will provide and you won't break your diet by adding them to your dishes.
The petals are 95% water and add little nutritional value actually and the calorie count is also very low. However, the rose hip, which appears after the flower has dropped, contains a decent amount of vitamin C. But there are some tips for eating rose petals:
Avoid roses that have been treated. You won't want to eat anything that has been sprayed with any type of insecticide or roses that were grown using fungicides or systemic insecticides. These all contain harmful chemicals and the rose bush absorbs them up and they are distributed to the rose petals. That's not something you would want to ingest.
Can you eat rose petals which are from the local florist? No. Most florist shops use a number of chemicals and fertilizers so the rose they sell is beautiful. These are not safe for consumption. Also, avoid eating the petals of any roses you buy from roadside sellers.

When choosing edible roses to eat you want to make sure they are organic, it is even better if you grow them yourself.
How to Eat Rose Petal
There are a number of ways you can spice or sweeten up a wide range of dishes by including in a few rose petals into the recipe, here are a few of our favorites.
1
Fresh Rose
Just like any other fruit or vegetable, you'll want to wash your rose gently using cool water. Once you have given them a good swish in a water bath, blot them gently with a paper towel. To remove the petals, hold the blossom stem in one hand and using the thumb and finger on the other pull off the petals. You don't want to use any blemished petals and you should use the petals immediately once pulled. You can store rose petals for a few days in a plastic bag but keep them refrigerated.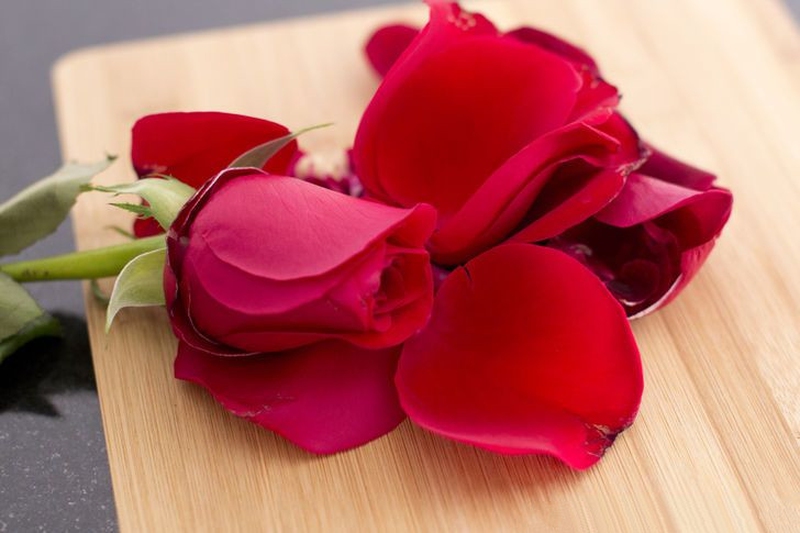 2
Ice Cube Rose Petals
Ice cube rose petals are a great way to add a little sweetness to your lemonade or iced tea. There are a few ways you can make your own ice cube rose petals. You could fill the ice cube trash with water and freeze them until they are a little slush, then stick one or two petals in each cube and freeze again until solid. Another way is to fill the tray half way with water and freeze all the way, then place a petal on each cube and spoon water over top. Re-freeze until frozen.
3
Salad Additions
Can you eat rose petals in your salad? Absolutely! Rose petals are a great addition to fruit salads. Sprinkle a few rose petals on top of your fruit salad or mix them in with whipped cream to top it off. The spicier flavored rose petals can be mixed in with your green salad as well. You can even create your own dressing by shaking some rose petals with vinegar and oil based dressing.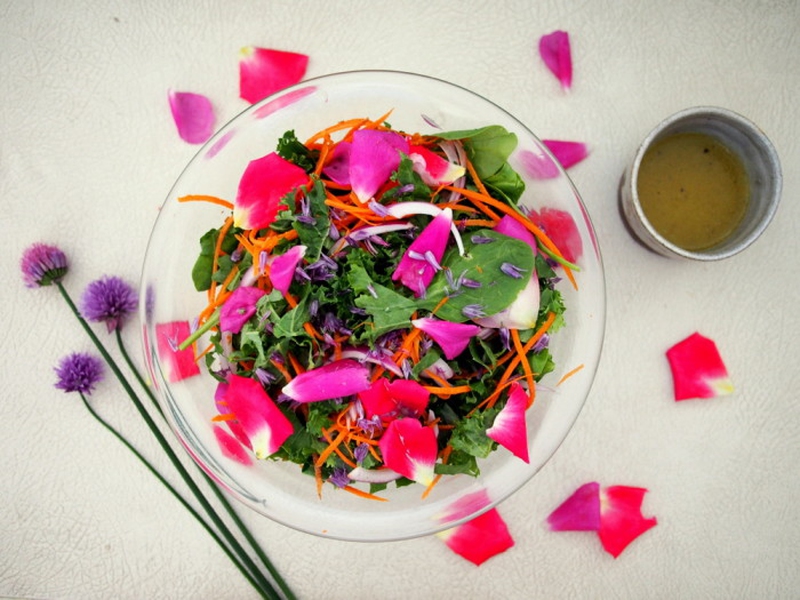 4
Rose Petal Butter
Rose petal butter is perfect to spread on bread and muffins. Chopped up a cup of rose petals and mix it with a cup of unsalted sweet butter. Let it stand at room temperature for 24 hours. Mix it again and refrigerate for up to two weeks.
5
Rose Petal Water
Rose petals turn your bland water into a fragrant and refreshing delight. Use the rose water to make gelatins and other desserts instead of plain water for extra flavor. Just boil 2 cups of rose petals in one quart of water.
6
Rose Petal Jam
Making this sweet refreshing jam is easier than you think. Start with a half-pound of rose petals, either pink or red. Discard the white bitter ends and rinse the petals. Place the petals in a bowl and cover each petal with sugar, and let them sit overnight. Then in a saucepan, combine 1 cup of sugar, 4 ½ cups of water and about ½ cup of lemon juice. Add in prepared rose petals and simmer for about 20 minutes. Increase the temperature to bring to a boil and let it boil for about 5 minutes. The mixture should begin to thicken, and wait until the temperature reaches 221 degrees on a candy thermometer. Remove from heat and store in sterilized jars, leaving about a quarter of an inch at the top. Store in a cool place until you're ready to use.
7
Rose Petal Scones
Begin by preheating the oven to 425 degrees. Prep your baking sheet by spraying it with cooking spray. Sift flour, sugar, baking powder and salt in a large bowl. Cut butter into the flour mixture and mix until pea-sized pieces form. Add in the pistachios. In another bowl combine the heavy cream and rose water, then mix in the shredded rose petals. Combine with the flour mixture. Work the mixture quickly until a dough forms. Drop a teaspoon of the dough onto your baking sheet and bake for about 11 minutes until the turn a golden brown.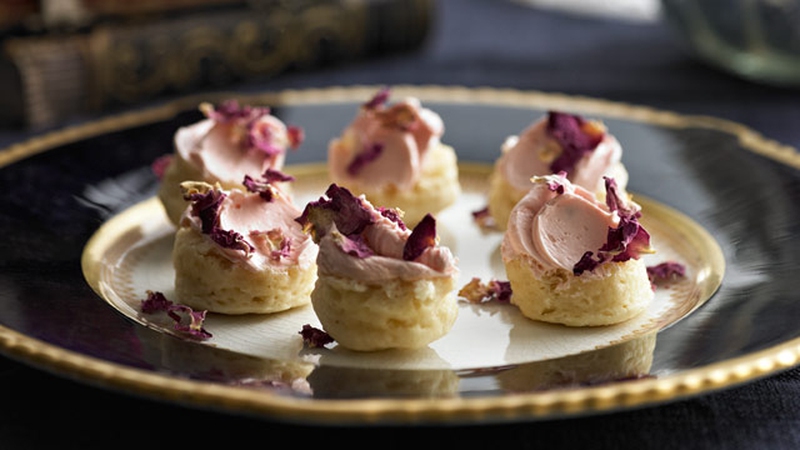 ANY IDEAS ABOUT THIS TOPIC?