Garlic is not only commonly used in many recipes; it's also been used for medicinal purposes for centuries. Some of the health concerns that garlic may help with are also common during pregnancy, such as bad circulation and high blood pressure. But with all the precautions necessary during pregnancy, you may be wondering if you can consume garlic during pregnancy. Here's what you should know.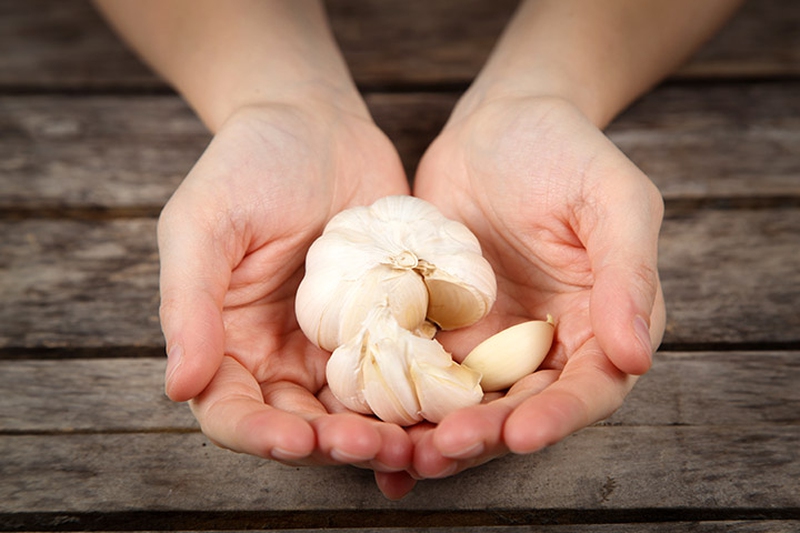 Is It Safe to Use Garlic While Pregnancy?
Around the world, it is not uncommon for women to eat garlic within their normal diet while they're pregnant. But consuming garlic supplements can potentially be dangerous. Garlic oil and powder don't have allicin in them, which is the compound in garlic that has many health benefits. To get the medical benefits from garlic, pregnant women should have either two to four fresh cloves of garlic daily or take 600 to 1,200 milligrams of aged garlic extract daily, according to the University of Maryland Medical Center. You could also consume 0.03 to 0.12 milliliters of garlic essential oil three times a day. Garlic supplements can be found as freeze-dried tablets, which you can take a 400 milligram tablet three times a day. However, be sure to discuss with your doctor what type of supplement and dosage are appropriate for you, especially during pregnancy.
What Are the Healthy Benefits of Having Garlic During Pregnancy?
Prevents Hair Loss
Garlic contains a large amount of allicin, a beneficial compound which prevents hair loss and promotes the growth of new hair.
Lowers Cholesterol and Stroke Risk
Allicin also helps keep bad cholesterol levels down and also thins out the blood, lowering your risk for a stroke or heart attack.
Prevents Cancer
Studies have shown that components within garlic prevent cancers, particularly colon cancer. Studies in China focused on garlic consumption found that frequent consumption of garlic along with onions and chives was associated with a lower risk of esophageal and stomach cancers, according to the National Cancer Institute.
Fights Against Infections
Garlic compounds limit the amount of bacteria in your bloodstream, thus making it useful in fighting off infections and keeping your immune system healthy.
Treats Yeast Infections
Another infection that garlic can help fight against are vaginal yeast infections, as allicin has some antifungal properties.
However, Pay Attention to Possible Side Effects
Though garlic is considered safe for consumption during pregnancy, there is the potential for some side effects.
Because garlic has blood thinning properties, you could bleed more than normal during surgical procedures or a Cesarean section. If you know you are having any surgeries, you should stop taking garlic supplements.
Garlic supplements can also interact with many common medications, particularly anti-clotting medications. Taking garlic during pregnancy can also interact negatively with insulin, as garlic can up a person's insulin release and in turn create lower blood sugar levels.
Ingesting too much garlic could upset your digestive system, so if you notice any stomach problems, discontinue taking garlic and talk with your doctor.
Try the Delicious Recipes Listed Here into Your Diet
As long as your doctor says it's okay to have garlic during pregnancy, you can cook some tasty recipes and easily incorporate the health benefits of garlic into your life. Below are some recommendations.
Tuscan White Bean and Roasted Garlic Soup
Ingredients:
1 lb. dry Cannellini beans, rinsed

1 head garlic, peeled

8 cups water

4 sage leaves, plus more for garnish

2 tsp olive oil

1 tbsp chicken bouillon

Salt and pepper to taste
Put beans, some garlic, water and some sage leaves in a crock pot; cover the pot and set the temperature high for four hours. Do not salt anything.
At the same time, preheat an oven to 400°. Put the leftover garlic in the center of a square piece of tin foil. Put olive oil and salt on top of garlic. Seal the tin foil and put it in the oven for 30 minutes, until garlic is soft. Take out of the oven and wait the beans are done.
After the beans are soft, add in the bouillon and mix them together until everything dissolved, then put some of the beans and liquid and the garlic to a blender. Blend until the mixture smooth and then pour it into the crock pot. Repeat this process with the remaining beans. Taste the mixture and add salt if needed. Serve it with sage and pepper.
Garlic-Braised Chicken with Olives and Mushrooms
Ingredients
1 small chicken (about 2 1/2 pounds), cut into pieces

Coarse salt and freshly ground pepper

1 tablespoon plus 1 teaspoon olive oil

2 heads garlic (at least 16 cloves), smashed and peeled

10 ounces cremini mushrooms, cleaned, trimmed, and halved

1/2 cup white wine

1/2 cup green olives, pitted or left whole

1/3 cup chicken stock
Heat a large skillet over medium-high heat. Meantime, season the chicken with salt and pepper. Add 1 tablespoon oil to the skillet and spread around. Add chicken to the skillet with the skin down. Let the chicken brown for five minutes. Take the chicken out of the pan and place on the side
Add 1 teaspoon oil to the skillet along with the garlic and mushrooms. Cook until they become brown for about five minutes.
Add wine to mushrooms and garlic mixture and bring it a boil. Cook the mixture for 1 minute and then place the chicken inside.
Add the olives and the chicken stock to the skillet. Bring this mixture to a boil, then lower the heat. Cover and simmer until the chicken is completely cooked for about 20 minutes.
ANY IDEAS ABOUT THIS TOPIC?