Many people know how beneficial honey is for your health, but this isn't just on the inside that these benefits can occur. Honey can improve your skin since it is a natural and organic way to take care of your skin. It contains antiseptic, antibacterial and moisturizing components that make it ideal to use on your face. Because of this, there are many ways you can use honey for face and this article will reveal some of those ways.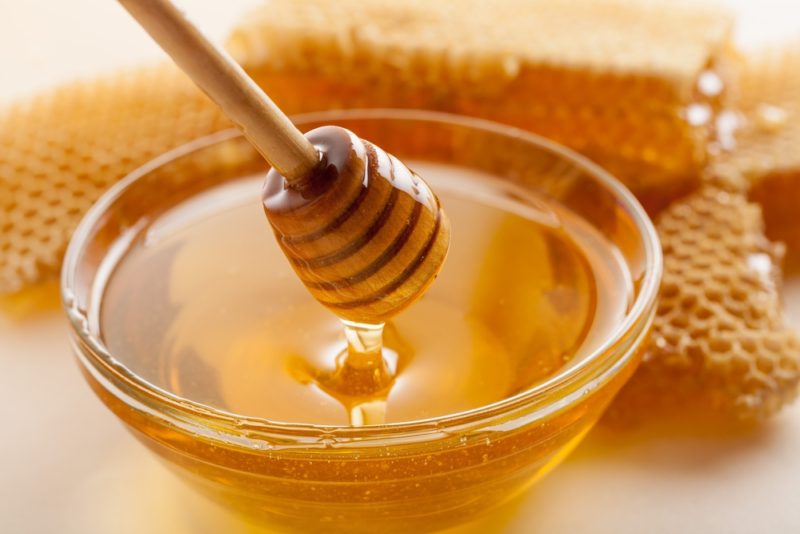 How Can Honey Benefit Your Skin?
1
Reduces acne
The antibacterial properties in honey make it highly effective as an anti-acne treatment. Applying honey directly to the acne can help clear it away quickly.
2
Keeps skin looking younger
Honey can act as an anti-aging treatment. Honey helps the skin on the face repair damaged skin which can help to reduce fine lines, dark spots, and wrinkles. The amino acids and powerful vitamins in honey are what make it the best natural anti-aging option for your face.
3
Exfoliates the skin
Honey can help clear away dead skin cells without the vigorous rubbing and scrubbing. The acid found in organic acid helps improve dull looking skin by clearing away the dead and patchy layers of skin.
4
Heals cuts and burns
The antiseptic properties of honey make it effective at treating minor cuts and burns. Applying honey to sunburned skin or minors cuts on the skin can help these injuries heal faster.
5
Contains anti-viral components
Those who suffer from cold sores will benefit greatly from the healing benefits of honey. Honey can help treat certain viral infections.
6
Repairs the skin
The antioxidants in honey help rid the skin of free radicals that can cause damage. Using honey for face can help fight off the effects of pollution, dust, stress, sun exposure and many other factors that can damage the skin.
7
For Fungal infections
Manuka honey can be used as a powerful anti-fungal treatment. The most common skin fungal infection is ringworm and honey can help reduce the effects of this fungal infection.
8
Keeps the skin moisturized
Honey acts similarly to the glycerin ingredient found in most store-bought moisturizers. It helps the skin absorb water from the environment, keeping it well hydrated.
How to Use Honey for Face
1
Honey Masks
The most basic honey mask is a combination of raw honey and baking soda. You want to message the mixture over the face and allow it to sit for a few minutes before rinsing.
If you are looking for a honey mask that will help reduce your pore appearance, then combine one teaspoon of honey and one organic egg. Apply the mixture to your face and allow it to sit and tighten the skin for at least ten minutes before rinsing with warm water.

Those with oily skin can also use a honey mask by mixing together a tablespoon of honey and a fourth of a cup of mashed strawberries. Leave this mask on the face for at least ten minutes before rinsing off.

To give you skin a beautiful glow, you can mix up a honey cooling mask. Grate one cucumber and mix with five tablespoons of honey and milk and a fourth of a cup of lemon juice. Make sure the ingredient are well incorporated into a paste and refrigerate for at five hours. After chilled, apply to the face and leave on for twenty minutes.

To help moisturize dry skin, combine honey, jojoba oil and lemon juice together and apply to the face. Let it sit for about ten minutes before washing off.
2
Honey Cleanser
Honey can be combined with coconut oil or jojoba oil and used to remove makeup and dirt from the face. You can also add turmeric into the mixture and massage it over the face to clean and moisturize at the same time.
3
Honey Exfoliate
Honey for face mixed with baking soda can act as an exfoliate. You don't have to use this mixture just on the face but can be used as a full body scrub too.
4
Honey Scar Fader
Combine a teaspoon of honey with a teaspoon of coconut or jojoba oil to use as an effective scar fader treatment. Massage the mixture in a circular motion over the entire face and cover your face with a hot washcloth. Leave the washcloth on until cooled, then rinse face with warm water.
5
Honey Acne Treatment
Dab honey on acne directly and allow it to sit for fifteen minutes. The anti-inflammatory factors in honey will help reduce and eliminate the appearance of acne on the face.
6
Honey Cuticle Moisturizer
Mix together a teaspoon of honey, apple cider vinegar and coconut oil for a moisturizing treatment for your cuticles. Apply the mixture on each of your cuticles and let it sit for ten minutes before rinsing with warm water.
7
Honey Sunburn Treatment
For skin that is sunburned, you can apply raw honey to the area twice a day to relieve the face of overexposure to the sun.
What Other Benefits of Honey Can You Get?
Honey has many beauty benefits that you can use on more than just your face. Try these additional uses for honey that will have you look and feel at your best.
Honey for hair
Conditioner. You can have healthy looking shining hair when you use a honey conditioner. Combine a tablespoon of honey with two tablespoons of extra virgin olive oil and massage into your hair. Let it sit for about thirty minutes before rinsing out with warm water.

Lightener. Just as honey for face can fade scar, it can also be used to lighten your hair. Combine a tablespoon of honey with six tablespoons of distilled water and leave on the hair for an hour. Repeat this once a week until you reach your desired lightness.

Removal of hair. You can combine one tablespoon of honey with three tablespoons of brown sugar and a teaspoon of lemon juice to create your own at home hair remover. Bring the mixture to a boil in a small saucepan and allow it to cool. Apply the mixture to the area using a Popsicle stick and cover with a cotton strip. Rub the strip to warm the mixture and then gentle pull of in the opposite direction the hair is growing.
Honey bath
Soaking in a honey bath at the change of the seasons can help keep your skin balanced and relieve dry irritated skin. Pour two cups of honey into a warm bath and soak in it for fifteen minutes. After fifteen minutes, add a cup of baking soda and soak for an additional fifteen minutes.
ANY IDEAS ABOUT THIS TOPIC?