It should be no surprise that for women, getting in the mood is more complex than it is for men. Women need more than a simple wink or back rub. However, some of the not so obvious things can get them in the mood more than you think. Doing some of the house chores can put you in the right direction, but this won't seal the deal. To help get her really in the mood, you might want to consider snuggle up with a good movie! Many movies cant turn women on to help you both set the mood, so consider one of the following films for your next movie night.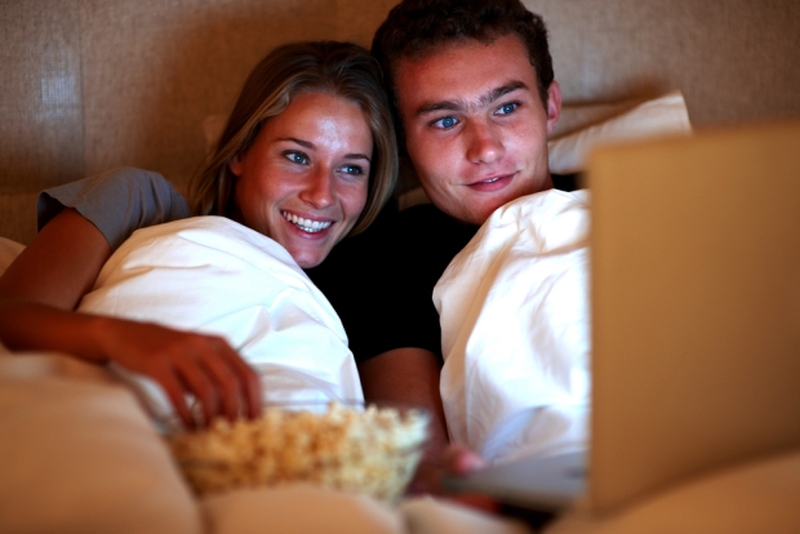 1
Like Water for Chocolate
This is a passionate story that reveals the story of a young woman who finds comfort in the kitchen when she is forbidden to marry the man she truly loves. It is through her cooking that she is able to realize the impact food can have over others' emotions while she struggles to gain better control on her own.
2
In the Mood for Love
This movie tells the story of two people who end up sharing a connection after finding out their significant others are having an affair. While it may not be the sexiest film, it will definitely heat up the desire she has for you once it is over.
3
Drive
Put on anything with Ryan Gosling and you win. There is barely any dialogue in the film and primarily just follows Gosling's character as he does some random acts.
4
Frida
The movie is based on the real life of Frida Kahlo and has a number of sexually roused scenes without being pornographic. This is one film that will not only give you a little history lesson, but will also get her in the mood.
5
Sex and Lucia
While this film takes on a somber tone at first, it lightens the mood with its various sex scenes. There is plenty of passion and nudity that will get your mind thinking about getting naked yourself.
6
Quills
This film is about the poet/philosopher Marquis de Sade. He was considered a sexual deviant and eventually was imprisoned for his illicit writing and drawings. This is one of the movies that turn women on because it is filled with sexual innuendos.
7
Y Tu Mama Tambien
While this looks like a simple coming of age story as two teen boys embark on an innocent road trip, it turns into anything but innocent. Through the film, the boys experiment and discover their own sexuality.
8
When Harry Met Sally
This is just a classic chick flick that we had to include on the list. Who can resist the story of two friends finally realizing they are meant to be together?
9
Casablanca
Humphrey Bogart and Ingrid Bergman are unforgettable in this classic film. This love story has romance, pain and regret all mixed into one well written story line that is sure to get her in the mood.
10
Love Actually
This romantic comedy has a little bit of everything in when it comes to relationships. No matter what her fantasy relationship looks like, this movie will strike a chord with her in one way or another, which will only get her thinking about what is going to happen once the movie ends.
11
Ghost
It will be hard to find a woman who isn't turned on by this film. The pottery scene with Patrick Swayze and Demi Moore is impossible to resist.
12
Sleepless in Seattle
The movie follows the lives of two strangers who have never met but are obviously perfect for one another. At the end of the movie, she'll be in suspense as to whether these two characters will actually meet high on top of the Empire State building or if they will simply miss their chance at love.
13
Vertigo
When it comes to movies that turn women on, they typically don't include scary movies. Vertigo is a bit of an exception to this rule as it perfectly combines romance with a little scare factor.
14
Friends with Benefits
This movie dives into the complex friends with benefits relationships. Is it possible just to have a no strings attached kind of relationship with a good friend or does it always lead to love? Either way, she'll want to have sex after watching this one.
15
Say Anything
Women swoon over romantic films that remind them that there are a few guys out there who are willing to do whatever they can to capture perfect women. It also stars John Cusack which most women can't resist.
16
Brokeback Mountain
We know most guys may be cringing at this one but before you completely toss this one aside, be open-minded. This one isn't about two guys having sex. What makes women turned on by this one is the incredible love story of two people who know they aren't supposed to be together.
17
Thomas Crown Affair.
Starring Pierce Brosnan when he was at his prime is just one of the reasons women love this film. It also has an intriguing story line that wavers from pure romance to forbidden love.
18
Interview with the Vampire
Twilight has nothing on this vampire tale. If your girl is into all those recent vampire thrillers, then this will be one to put on. Starring Tom Cruise and Brad Pitt, there's plenty of sexual tension that is sure to arise from this movie.
19
Original Sin
It is hard to find movies that turn women on that men will actually enjoy as well, but this one is sure to please both parties. Starring Angelina Jolie and Antonio Banderas, this one is a win win for everyone.
20
Unfaithful
Watching a movie that has to do with being unfaithful might not seem like the best movie to get her in the mood, but this isn't like all those other cheater movies. This is one movie that is packed with steamy scenes that are sure to have the effect.
ANY IDEAS ABOUT THIS TOPIC?